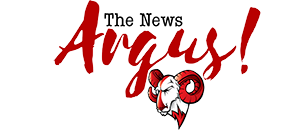 Post Classifieds
Phi Mu Alpha chapter celebrates 33 years, new plot, probate
By Jennifer Rooks
On May 2, 2012
The campus grounds received yet another addition to the landscape, only this time in the form of a new Greek plot.
Phi Mu Alpha Sinfonia, a music fraternity, joins the small list of Council of Independent Greek Organizations members to receive a Greek plot.
The plot, which is in front of the Fine Arts Building, was constructed in celebration of the chapter's 33-year existence on Winston-Salem State's campus and in honor of Sinfonia's first new member probate in five years.
The fraternity presented its seven members to the campus March 24.
"I figured it would be a great addition to everything that was going on, and for the boys to come back to a plot after they probate," said Gerrod Williamson, a junior political science major from Baltimore, and Sinfonia member.
The 7-foot-wide, black, red, and gold plot is the first one the organization has had since the installation of the Clock Tower in 2004.
Williamson credits the long absence of a plot to the inability to find suitable members as well as the organization's instability at the University.
"You have to find members who are willing and determined to make the organization what it needs to be," Williamson said.
"When people graduate, you have to bring new people in. It takes a while to stabilize."
Other members of CIGO holding a joint plot on campus are Tau Beta Sigma National Honorary Band Sorority, Inc. and Kappa Kappa Psi National Honorary Band Fraternity, Inc.
KKPsi's and TBS' plot are near the Fine Arts Building almost directly parallel to Sinfonia's plot.
Sinfonia's plot has been met with solid support from the student body including members of the National Pan-Hellenic Council and other members of CIGO.
Matthew Goodman, a senior music education major from Greensboro, and KKPsi member said that the plot will be a positive addition to the school.
"I feel it gives prestige to the University," Goodman said.
"It draws the eye in and it's a visual for them as well as the University."
Goodman also said that he feels that every organization should have an area for its own.
He referenced NC A&T as an example, where every active Greek and fellowship has a plot.
"If the organization is active on campus and is doing stuff in the community, then it should have somewhere on the campus to be visually recognized by people in passing," he said.
Otwon Kelly, a member of Omega Psi Phi Fraternity, Inc. agreed.
"If you go right down the street to A&T, every Greek organization whether it's Divine Nine or a non D9 organization, all of them have a plot," Kelly said, a senior justice studies major from Greenville, N.C.
Williamson said that Sinfonia will continue to increase its presence on campus well into the fall semester, with the possibility of performing in the homecoming step show.
However, Williamson said the organization is more focused on increasing its impact on campus.
"It would be nice, but there are other things we are trying to do. We are trying to increase our service, and we are trying to increase our impact musically on this campus just a little bit more," he said.
Williamson says that more work will be done on the plot.
He said he hopes an umbrella and possibly a picnic table will be added so that the members of the organization can have a place to sit.
"This is just phase one, as far as the permanent representation of us on campus, and us being a household name as far as campus goes," he said.
Get Top Stories Delivered Weekly
More thenewsargus News Articles
Recent thenewsargus News Articles
Discuss This Article