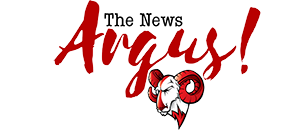 Post Classifieds
Rams tested, but reclaim CIAA title
First time repeating since 2000
By Daniel Braswell
On December 4, 2012
Quarterback Anthony Carrothers is back in familiar territory – leading a football team toward a CIAA championship. (PHOTO
Winston-Salem State beat Elizabeth City State 34-19 on Nov. 10 to win its second straight CIAA championship at Durham County Stadium.
WSSU now has won 10 conference championships.
Down in the second half for the first time to a CIAA team, the Rams (11-0) played their toughest conference game of the season.
"They are a good football team," said Head Coach Connell Maynor on his championship opponent.
"You have to take your hats off to Elizabeth City State; they came to play."
The Vikings (7-4) started the game with a 9-0 lead in the first quarter that included a 44-yard field goal by junior kicker Brett Symonds and a fumble recovery in the end zone for a touchdown.
The Rams would finally get it going with a touchdown in the second quarter that was a 10-yard pass from senior quarterback Kameron Smith to senior wide receiver Jamal Williams.
"We just had to calm our guys down," Maynor said.
"They stayed focused and we got rolling after a slow start."
The Rams would go in to halftime with a 14-9 lead, their second touchdown coming from a 26-yard pass Smith connected to senior wide receiver Jameze Massey.
Elizabeth City State scored the first 10 points in the second half giving them a lead of 19-14.
In the third quarter it was announced that Smith, the CIAA Conference Offensive Player of the Year, would not return after he injured his shoulder.
Backup sophomore quarterback Anthony Carrothers would throw three touchdowns after coming in for Smith, helping WSSU regain the lead and the conference title.
Carrothers went 7-11 and had 123 passing yards.
"I always tell the guys no one is bigger than the team," Maynor said.
"It shows that we have depth in our number two spots," he said.
Carrothers found Massey twice for touchdown passes.
Massey finished with 115 receiving yards to go with three touchdowns.
He was selected the Most Valuable Player for WSSU in the game.
"I put this as the best game I've had," Massey said.
"It was the conference championship game and I just wanted to make some big plays," he said.
With this being the Rams first time repeating as CIAA champions since 2000, Maynor is very pleased with his team's achievement.
"It's a great accomplishment, and I'm just proud of the guys," Maynor said.
"The first championship is hard to win but that second one is even harder because you have a big X on your back and everybody is going to give you their best game."
Chancellor Donald Reaves said, "It is very difficult to go back-to-back in anything, especially football.
"I am just so excited about being back-to-back CIAA champions."
Next for the Rams is the start of the NCAA Division II playoffs.
Matchups for the 24-team playoffs were announced on Nov. 11 with WSSU receiving a first-round bye.
The Rams will play at home Nov. 24, against either Shippensburg University or Bloomsburg University, both Pennsylvania schools sporting 10-1 records.
WSSU came within one game of playing in the national championship last season, losing to Wayne State 21-14 in the
semifinals.
"We have to get ready to play our best football," Reaves said, "and have the goal in mind of winning a national championship."
This year's championship game will be Dec. 15 in Florence, Ala.
"We believe we can win [it all]," Maynor said.
"We just have to take care of the ball on offense and keep doing what we're doing on defense, and we have a chance to win every football game that we play."
 
Get Top Stories Delivered Weekly
More thenewsargus News Articles
Recent thenewsargus News Articles
Discuss This Article