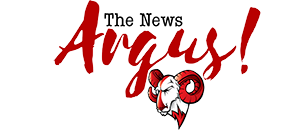 Post Classifieds
WSSU quarterback assault still under investigation
By Chelsea Burwell & Matt Parmesano
On November 20, 2013
Quarterback Rudy Johnson answers questions during press conference on Nov. 18. Irwin Clawson
Investigations are underway as Winston-Salem State is still in shock after star quarterback Rudy Johnson was allegedly assaulted by Virginia State University football players. The incident took place during the annual CIAA football banquet on Nov. 15 in the Anderson Center at WSSU.
During the banquet, Johnson, a junior mass communications major from San Diego, was reportedly confronted and attacked in the Center's restroom by at least five VSU players who began taunting him.
At a Nov. 18 press conference on campus, the quarterback retold what happened to him.
"I walked into the bathroom, and they're [Virginia State players] already asking 'Are you the starting quarterback?'...talking a lot of trash," Johnson said.
When it seemed as though the confrontation was going to escalate, the Rams quarterback said he told the VSU players, "I'm not going to talk a lot of trash. We'll just see on the field."
Johnson said that five or six VSU players attacked him, leaving him with a laceration above his eye and soreness around his back and ribs.
"I felt about four or five feet stomping on me and kicking me. Then when my teammate came out there to help me, they all ran out the bathroom. After that it was just commotion and chaos," Johnson said.
VSU backup running back Lamont Darnell Britt, 22, of Portsmouth, Va. was arrested and charged with assault and inflicting serious injury. However, no other players have come forward as of Nov. 20. He was held the night of the incident in the Forsyth County Jail with bond set at $7,500. He was released before noon the following day, Nov. 16.
Details of Britt's release were not immediately available. http://www.journalnow.com/news/local/article_9f8d4c3e-4f0a-11e3-829f-0019bb30f31a.html
Johnson's account of the incident places much of the blame on the Trojan football players, but Virginia State's version is different.
VSU president Keith Miller said that the atmosphere leading up to the incident was "very toxic" and Rams football players were taunting VSU by "pushing their [championship] rings in [VSU players'] their faces."
On Nov. 15, the CIAA Board of Directors canceled the championship game scheduled for Nov. 16 and banned VSU from postseason play.
While that decision seems to be far worse for Virginia State, it was not ideal for WSSU either: The Rams lost their chance for a third straight CIAA championship wins and lost a bye in the first round of the national playoffs.
WSSU has been scheduled to play Slippery Rock University in the first round of playoffs on Nov. 23.
As of Argus press time, CIAA spokesperson Meigan Manis said officials have not decided whether the Rams will be named the champions of the conference.
Jacquie Carpenter, CIAA commissioner, said the association has requested documents from the head coaches and top administration from both universities.
Johnson said he is disappointed but has returned to practice and is ready to move on.
"I practiced today [Nov. 18]," he said. "I'm just trying to get over this experience and take it one day at a time. We're disappointed just as much as they are. We missed out on an experience to play in the CIAA championship.
"I'm in shock still. I wish it never happened, and I was willing to play them on the field. I was ready to play them on the field. I just don't think they were," he said.
Argus Exclusive
WSSU Head Coach Connell Maynor discussed the incident during an exclusive interview with The News Argus.
"This is an insane act," Maynor said. "You're on the campus of the opposing team, and you have their star quarterback in the bathroom and you jump him; that's borderline retarded."
Maynor said the location of the banquet [on WSSU's campus] was not a factor.
"We play 10 games a year; five of those are on the road. That's never happened before. So it doesn't matter if it was on our home site; it was a football game. It could have been at Virginia State. That's irrelevant. The fact that the crime happened is what matters here."
Coach Maynor said that when he spoke with Latrell Scott, head coach for the Trojans, Scott did not show any initiative to look into what happened.
"I talked to their coach ... I said, 'Your guys just jumped my quarterback' and he [Johnson] walked out with a swollen eye, blood coming from it --. 'Scott said 'Well, we don't know what happened. We weren't in there.'"
Scott resigned as head football coach for the University of Richmond in 2011, after picking up his second DWI charge within a 5-10 year period.
Scott has been the Trojans' head coach since January.
Maynor said that Virginia State officials are trying to downplay the situation and make it go unnoticed.
"They're definitely trying to cover it up. Like he [Johnson] said there were at least four or five guys. The first guy that hit him, he admitted it. Now the next guy that hit him, he won't step up, and they're not trying to get to the bottom of it. They're trying to cover it up and act like it was a one-on-one fight. That's a lie, and the truth will come out. That shows their lack of character and what they represent."
According to a report posted by CBS 6WTVR.com on Nov. 20, VSU's president has openly praised Scott and has hired an attorney affiliated with a Washington D.C. law firm to conduct an investigation into the Nov. 15 incident.
http://wtvr.com/2013/11/20/vsu-president-praises-coach-in-open-letter/
Get Top Stories Delivered Weekly
More thenewsargus News Articles
Recent thenewsargus News Articles
Discuss This Article